Change the current User Password
If you decide to change your Master Password (User Password).
Click Options button, select page Password, or Select the Options > Change Account Password on the main menu.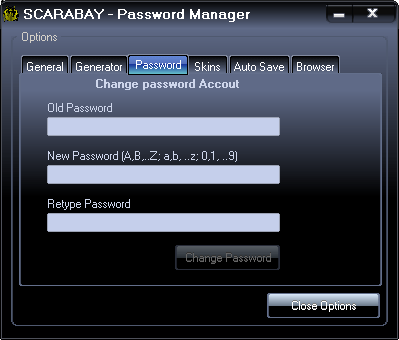 Enter your password into the Old Password: field, and a new password in the New Password field. Repeat the new password in the Retype Password field and click Change Password.
---
What characters can the password contain?
The password can consist of any combination of letters (upper and lower case), numbers, and other special characters; and be up to 16 characters in length.
What is a case sensitive password?
The programme treats upper and lower case letters as different characters.
---
Attention: Once you have created the password, write it down and keep it in a reliable place. In case you loose it, it will be impossible to open the protected account.
Attention: The character case is recognized in a password; therefore if the password characters are in different cases, you have to enter the password in the same cases as it was created.
---
Privacy: Use a reliable password consisting of a combination of the upper and lower case letters, numbers and other special characters. Passwords not containing a set of such elements are unreliable. A reliable password is Sc34R5fE. An unreliable password is My33. Use a reliable password you can remember without writing it down.
---
Advice: Type in your master password via the on-screen keyboard and access to your personal data will be protected. If a key logger is installed on your computer and it is monitoring keyboard events for passwords, no keyboard clicks will be captured and your master password will be protected.
---